Icebox Quality Framing and Gallery is having a sale.
31 Years and it's time.

Because we reserve most of our space to special exhibits we seldom have the area to offer items for sale. Icebox has lots of surprises and this summer we will fill the gallery with frames, art materials, and artwork at very special prices.

Great Deals for Artists, Photographers and Collectors.

We plan to have the gallery evolve and change throughout the summer. We encourage you to visit the gallery more than once to see what Arts & Parts will be available at very special prices that you can take home with you. Surprises ahead!

Art & Parts - Starts with Art-A-Whirl May 17-18-19 thru September 21.
First Featured Photographer is Minnesota's Treasure: Mr. Will Agar
Minneapolis: Past and Present, Night and Day

May 17 thru EXTENDED THROUGH SUMMER
_________________________________________________

Beginning in August Another Minnesota Treasure: Chris Faust

NOTE: OPENING DATE CHANGED / TO BE ANNOUNCED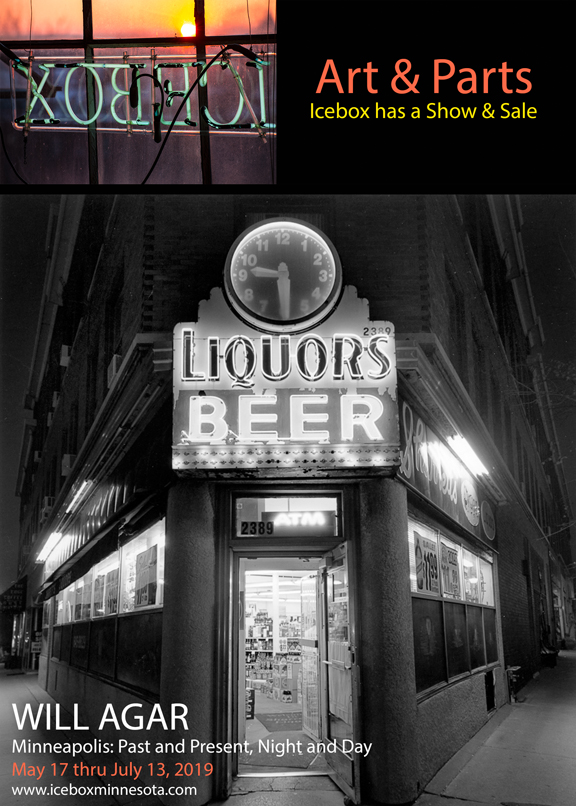 Minneapolis: Past and Present, Night and Day
This is a selection of my favorite images of Minneapolis from the past as well as new work. Like my landscapes and portraits, this body of work reflects over 50 years of continuous creative image making. I find the city to be an exhilarating montage of form and content offering great diversity of ideas and invention.

The term "new work" is rather relative for me. I discover a subject and record a picture. Later I will develop the film and months later make a contact image. A small print will eventually be made. The photograph will sit for a while. I reflect. At some point I may make an exhibition print. You could call this crock-pot photography. A slow simmer over a long period of time.

Although many of my images are made in the day, often the banal and trivial appear magical – like a midsummer's night dream- when swathed in the mystery of the night air. The film technique of night photograph is slow and cumbersome. But it's formal technique is like the restraints of classical music, which I also enjoy, and the resulting subtle black and white lyric tones of the photographic print are like a quartet by Mendelssohn.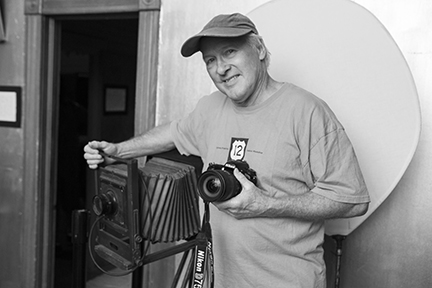 Image of Will Agar by: H.M. Christopherson

Will Agar

Will Agar grew up in the 1950s influenced and visually educated by his father, Frank Agar (1917-1999), who studied photography at the California School of Fine Arts with Minor White. In Minnesota, student Carrol T. Hartwell was a frequent visitor to the Agar household where he and Frank studied the latest Aperture publication while Hartwell printed for Frank's upcoming shows and publications.

"Because of my father's influence through teaching and our family's relationship with the photo-art world my images have taken on two distinct components. The first is a strong foundation of composition and other formal elements of art and design. My camera, a 4x5 view, reinforces this. Second is my personal feelings of content- a certain place, a friend, or the clarity of seeing the right combination of visual elements at a particular time and place".

Since 1975 Will Agar has taught black and white photography as a fine art at North Hennepin Community College. He continues to extend a visual tradition while reflecting whatever point he has reached in his life.
Will Agar's work in included in the Minneapolis Institute of Arts and the George Eastman House. He has exhibited throughout the United States, Spain and Romania.