Then it is Tony Glover with V3.
This relatively new combo has been years in the making. It's a recent addition to the Minnesota music scene, even though its members aren't all newcomers. The mostly acoustic trio came together in summer 2002 to play a roots-oriented blend of blues, folk, country, gospel and rock'n'roll, with a little R&B on the side. "It's American music," Glover says, "and a piano-guitar-harp unit is the quintessential band combination."
Tony Glover's Website:
www.mwt.net/~koerner/tonyglover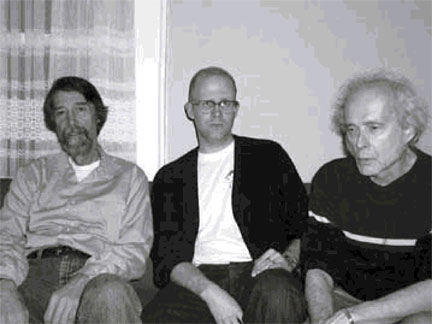 TONY GLOVER with V3
Music Starts at 8:00 PM Saturday November 4th.
Free with a food shelf donation of a non-perishable food item.
Icebox Gallery
On the fourth floor of the Northup King Building.
1500 Jackson Street NE #443
Minneapolis MN 55413
612-788-1790

The final day to see the exhibit Sunday, November 5th.
Icebox is open from 12 – 4 as part of the Northrup King Building event "Art Attack".