VIEW EXHIBIT

SHOW EXTENDED UNTIL MAY 2, 2015
See Icebox Home Page for Hours in April.

ICEBOX Presents: Cold Snap Blues a retrospective exhibition of thirty-three portraits of Blues artists selected from the seventy-eight found in photographer Marc Norberg's book, Black & White Blues. Each print is a traditional darkroom print made by the author.

Like a Time Capsule books will be also available in this twenty year anniversary release of the edition, which was first published by Graphis in the winter 1995.
February 21st, 2015 from 6 pm until 9 pm for the Artist Reception and Opening. Featured at the event will be Twin Cities-based Javier Matos. Usually fronting his blues & roots quartet the Innocent Sons, Javier will be flying solo at the opening and serving up Early American Blues on his 1937 National Guitar. Rounding out the celebration will be KFAI DJs Miss Sara Oxton of The Rockhouse and Lolly Obeda of the Sugar Shop spinning the sounds of the blues artists featured in the book.
VIEW EXHIBIT

It's in this spirit and theme that the show promotes a continued respect for a genre of music that has been and always will be, a significant influence on the development of American popular culture. It honors those artists who have performed within a musical form that is rich in the roots of historical traditions. It is also a celebration in portraiture that plays tribute to the American institution, of the Blues. The portraits stem from an archive that spans over twelve years of development from the mid 1980's to the 1990's. The photographs are made traditionally on 11 x14 silver; fiber based paper, and includes vintage prints which were edited from the production of Black & White Blues. The written text and discographies about each artist was produced by the twin cities music critic Tom Surowicz.

The publication and exhibition share the same goal; which is to not only serve as a vehicle to honor those artists who perform Blues, but also to help the viewer understand and appreciate the Blues artists' influence by the gifts they've made with their music.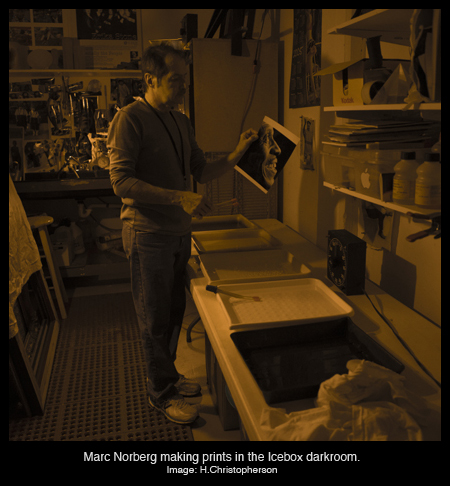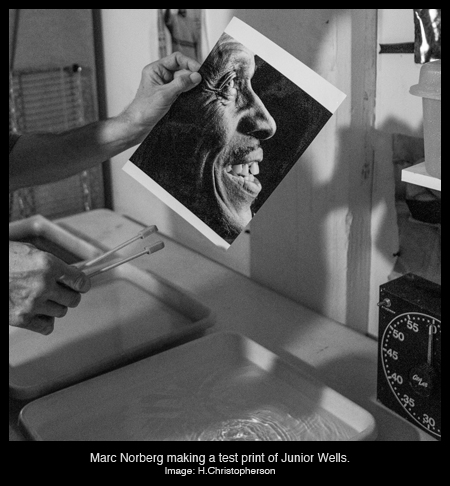 VIEW EXHIBIT

The work is only dated by those artists portrayed and who are no longer with us. Such as the late greats, Memphis Slim, Koko Taylor, Etta James, Honey boy Edwards, Luther Alison, John Lee Hooker, Albert Collins and Willie Dixon and promotes those younger musicians that still carry on the traditions of Roots music and blend them into their own.

What I have found common to all the artists I've photographed is respect and inspiration. Blues artists work with the kind of feeling and emotions that have to be expressed. That spirit finds you. It's always been that way.

It echoes continually through its history, myths and its legends. Justice, injustice, love lost or love gained, there's a struggle that always prevails at times that can feel insurmountable. This passion can never stop, its life.

That is why the Blues will never die. For this collection and book is as much for them as it is about them. I hope their contributions for American music will challenge and inspire future generations and that they will always be remembered.

Marc Norberg was born and raised in Sioux Falls, South Dakota where he began making photographs at the age of twelve. He currently resides in Saint Paul, Minnesota.

Marc has shared numerous awards for his commercial work, has shown nationally and was recently inducted into the Minnesota Blues Hall of Fame, by the Minnesota Blues Society. He was also awarded a Handy for art and photography in 1998 by the Memphis based Blues Foundation.

Copies of Black & White Blues will be available for purchase throughout the exhibition.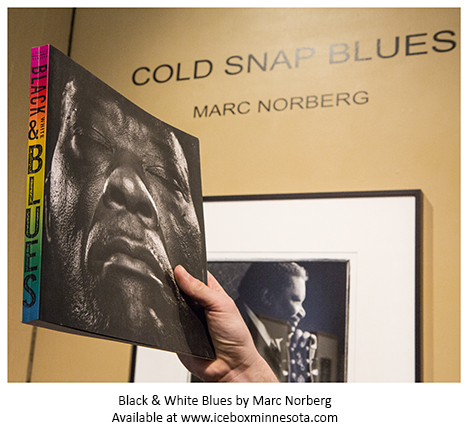 Artist Reception Saturday, February 21, 2015 Opening 6-9 pm ----- Exhibit Closes April 25, 2015