Icebox Galley presents New York Icons, black and white photography of two historic, celebrated New York City landmarks by two (Equally Iconic) New York natives Flo Fox and Sid Kaplan.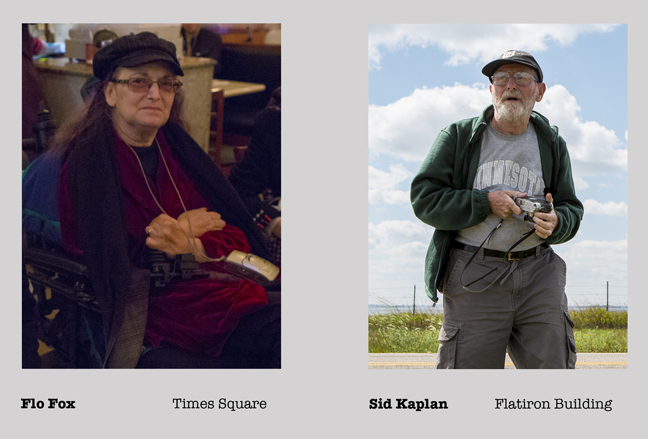 Sid Kaplan's work documents the changing seasons and years in images that feature the Flatiron Building which has been a subject of photography since it was completed in 1902. The 22-story steel-framed landmarked building is located at 175 Fifth Avenue. Recently his images had been assembled into a calendar. SEE SID'S WORK HERE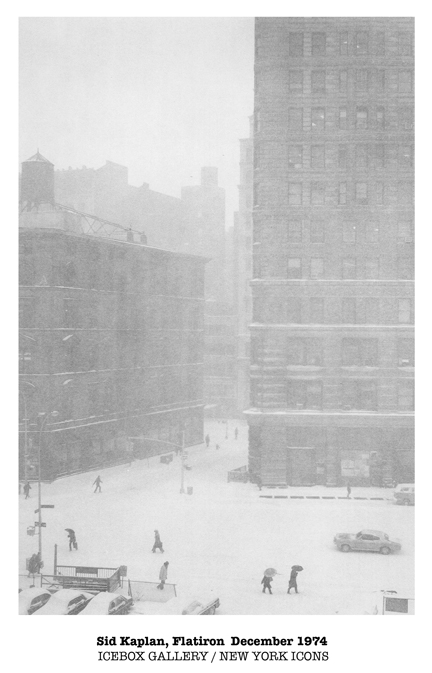 Sid says "As you go about your daily routine you forget you're doing it around a world famous landmark until something different occurs; events, light, weather. That's when you have to have a camera to record it". Sid Kaplan had a studio with a window view of the Flatiron for more than 20 years. He lives only 4 subway stops away form it these days and he continues to make pictures of the building if the conditions are right. The pictures included in the exhibit are from various angles, times of day and changing seasons made over many years.
Sid Kaplan is well known for his expertise in traditional darkroom printing but his own passion for photography started when he was a young boy living in the Bronx. His work radiates out from the core – the core being New York City, his home. Kaplan has explored the streets of the city with his cameras for more than 50 years always on the look out for something special to photograph.
"Sid often concentrates on a subject and explores how it can be viewed in different conditions. His long love affair with the Flatiron Building is just one of his many photographic interests" ~H. Christopherson
Sid Kaplan will exhibit the original darkroom prints that he used to create the calendar.
Flo Fox captured the naughty 1970s and '80s of Times Square before the city made changes. Recently her images were assembled in to the book titled "When the Deuce was Wild"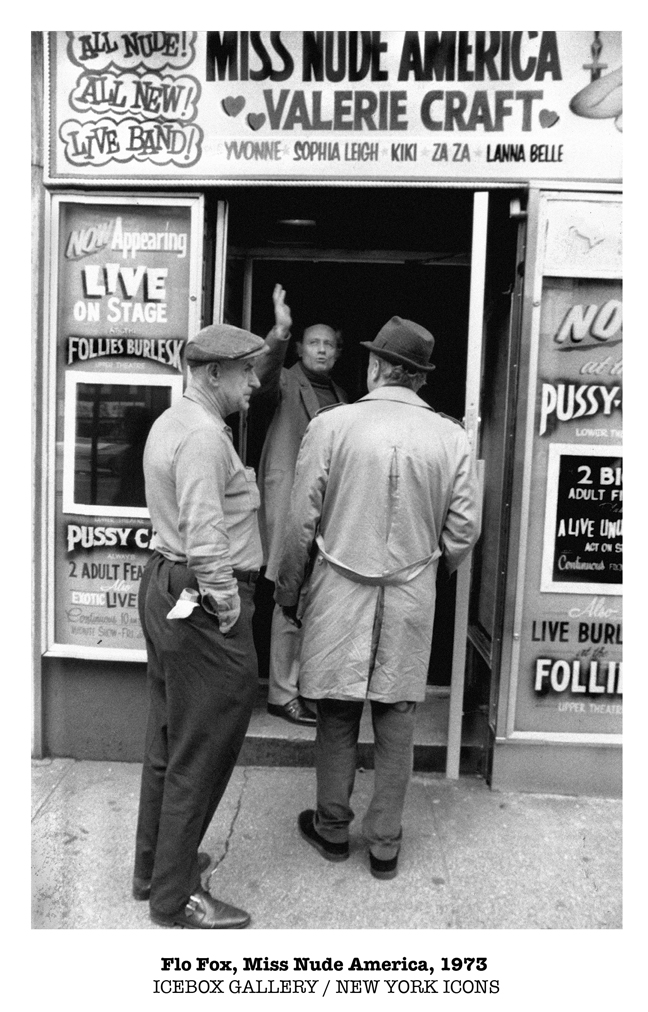 Flo has always seen the world in 2D. She was born blind in one eye in Queens and lived in Manhattan most of her life. She got married and had a son. Artistically her career began as a tailor and stylist and things were going well until 1976 when her eyesight began to deteriorate. Eventually she was told she had multiple sclerosis. It did not take long before her vision and her marriage were all but gone and her legs began to feel numb. Flo found photography to be her lifeline. As her eyesight deteriorated she began using the first generation of self-focusing cameras. Printing black and white images in her small Greenwich Village apartment with a self-focusing enlarger. Flo would study the prints she made with magnification. This became her way of seeing the details that she would have otherwise missed.
Flo Fox is intuitive, gregarious and street wise. She never felt shy or afraid of the city streets even at night. Her images often have a sexual of ironic twist to them. Times square in the 70's and 80's was a much more spirited and different place than today. Flo was in her element photographing the marquees of the many X rated theaters and the colorful people that inhabited the area back at that time.
As time went on Flo retired her cane and learned to cruise the bumpy sidewalks in a scooter. In recent years Flo has lost the use of her legs and hands completely but she is never caught without a camera. These days Flo instructs her personal aids to help make the pictures she records.
Icebox has produced a small edition of digital prints of Flo Fox's images for this exhibit.
Exhibit Opens During Art-A-Whirl, May 20-21-22.
Show continues through August 27, 2016
Art-A-Whirl Hours: Friday, May 20, 5-10PM, Saturday May 21, 12-9PM, Sunday May 22, 12-5PM
Regular Hours: Thursday & Friday 10-6, Saturday 12-5 and by appointment.