RETURN to Home Page

ICEBOX GALLERY PRESENTS:
Howard M. Christopherson / The Icebox Years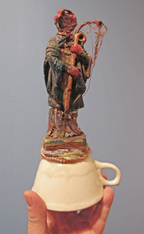 ICEBOX 25
Howard M. Christopherson / The Icebox Years
An exhibit of a variety artwork created during the 25 years of Icebox Gallery by its founder. "I have made art my life, drawings, sculpture, paintings, video and photography. My primary media has been photography for a long time now but I can stray to other media when I get the feeling." - Christopherson
Howard Christopherson was creating manipulated art, including photographs, paintings, drawings and sculpture at the time he started the Icebox. It began with a single work of art created on the bottom of a coffee cup. His small-scale found object sculpture, titled Crystallized Phantom (1987), set him on the path to the first exhibit. In addition, it played a key role in opening an art gallery / framing business and helping to reshape Northeast Minneapolis. Christopherson was one of the founders of Art-A-Whirl, now the largest art event in the state of Minnesota.
Christopherson made many detailed images using a mechanical pen on paper. His pen and ink work consisted of free flowing compositions that over time became more and more gestural, emotional and thought provoking. His 1993 drawing, 38 Ropes, was added to the Minnesota Historical Society, exhibited in the "MN 150" exhibit. It was made after he learned about the 1862 mass hanging of 38 Native Americans in Mankato, MN.
Christopherson was one of the most prolific artists of the Icebox Gallery being included in a total of 34 exhibits; 14 Solo and 20 Group exhibits.
In the 1980s Christopherson combined the medium of photography with drawing and collage. Initially, he made a 35mm slide which he would then alter in a variety of ways, he would add colored dye, scratch, glue and burn the tiny transparency and later enlarge them, sometimes even to the scale of a Cibachrome Print.
Icebox Studio, which was later revised to Icebox Quality Framing & Gallery, began circa 1987; in 1988 Icebox became a Soul Proprietorship. Howard Christopherson already had a picture-framing career underway, working for several framing companies, prior to opening his business. For several years Howard was a production supervisor for a large multi-location framing company. These experiences and skills qualified him to own his own business. Icebox became a stimulating and thought-provoking art gallery and a full service frame shop specializing in hand-crafted gallery style hardwood frames.
In 1988 the Minneapolis gallery scene was flourishing in the warehouse district just as it was undergoing gentrification. The cost of renting local buildings was affected by the construction of the Target Center, changing the character of the neighborhood. This was the beginning of the shift of the gallery scene to NE Minneapolis. Icebox opened what became the first fine art gallery in NE Minneapolis.
The Icebox Gallery has been an extension of Howard Christopherson's artistic vision. Howard felt it was difficult to find a gallery that would exhibit an experimental artist like himself through the many changes in media and themes. Reluctantly he started his business aware that it would certainly curtail his love of travel. Private parties, collectors and artists made framing and art purchases that set Icebox on its way and help it become the business it is today.
OPENING NIGHT: February 16, 2013 8 - 11PM ~ Exhibit Closes ~ April 20, 2013
Additional Events: Artist Talk in the Gallery. Free. 8 - 9 PM Corrected Date Thursday April 4th
Howard Christopherson List of exhibits at Icebox Gallery:
Crystallized Phantoms (1988) Erotic Edge I (1988) Frost Warning (1989) Just for Fun (1989) Home (1990, solo) In the Sand (1991, solo) War and Peace/Through the Eyes of the Artist (1991) Under the Sun (1992, solo) The Dark Side (1992) Underdog Exhibit (1993) The Dark Side: the 2nd Annual Haunted Gallery (1993) Slow Justice (1994) Fall Color & Place in Mind (1994) The Dark Side III: A Haunted Gallery Tour (1994) Me, Myself and Eye: A Unique Self-Portrait Exhibit (1995) The Dark Side IV (1995) Still Hallucinating (1996, solo) Dark Side V: the Final Reckoning (1996) Transcendental Frames (1997, solo) South of the Border (1998) People, Places, and Dreams (1999, solo) Show, Sale, and Celebration (2000) People, Places, and Dreams, Vol. II (2002, solo) SKIN/2003 Part 1 (2003) SKIN/2003 Part 2 (2003) Flashback (2004, solo) From the Shadows (2006, solo) Piece of Tokyo (2007, solo) Pieces of Italy (2008, solo) Peru (Color) (2009, solo) Dolls (2010, solo) Faces of the Dead (2011, solo) Caught in the Act (2006)