Will Agar & Jerry Mathiason
Relentless Melt of Time
ICEBOX GALLERY presents:
Will Agar and Jerry Mathiason are two Minnesota photographers with a shared interest in photographing aged and crumbling buildings with large format cameras. Both photographers take you inside places that may no longer exist, showing with great detail the fascinating effects of weathering on businesses that have been deemed useless. Agar and Mathiason have pursued this subject matter independent of each other for a number of years and there seemed to be a strong connection between the two bodies of work. This connection precipitated the idea of a joint show. See a selection from the exhibit.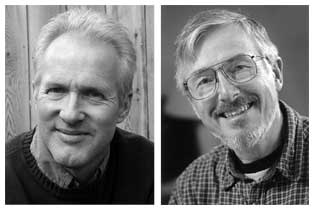 Will Agar and Jerry Mathiason
All the photographs are produced from large format cameras and are concerned with the photograph's ability to work with tone, detail and texture. The subject of abandoned places is a traditional magnet for photographic artists, inspiring such luminaries as Edward Weston, Aaron Siskind, Wynn Bullock, and many more. The visual qualities of these places, once fresh and new but now subject to the march of natural forces, are a rich resource for photography's ability to invoke a sense of time and space.
Both Agar and Mathiason teach photography at North Hennepin Community College, and Agar teaches at the University of Minnesota as well. Mathiason also maintains a freelance photography studio that includes historic architecture documentation work.
The exhibit is funded in part by a grant from the Minnesota State Arts Board
Jerry Mathiason:
In my case, I have photographed historic buildings over a period of years for the Historic American Building Survey (HABS) and the Historic American Engineering Record (HAER). These are two federal level programs that generate documentation of historically significant sites for inclusion in the Library of Congress archives. For these projects, I have photographed sites as diverse as a large meat packing complex in Iowa to a public housing project in Minneapolis. The photography for these projects tends to be very descriptive in nature, and the end results are in the public domain, available to researchers at the Library of Congress or the Minnesota Historical Society. At most sites, there are also photographs that I take for my artistic interests which speak to the more elusive qualities of place, space and time.
Will Agar:
Along with photography, I've always had an interest in history and the way things were. This show is a collection of my photographs that document, in a poetic way, places and things either gone or fast fading. I have included scenes from the Metro area, out-state rural Minnesota, Wisconsin and North Dakota, the Canary Islands and Spain. All images were made and inspired by the use of natural light.
I have been active in the making and exhibiting of photographs since the early 1970s. My work is found in the local collections of the Minneapolis Institute of Arts, Weisman Museum, Minnesota State Historical Society, and in the national collection of the George Eastman House in Rochester, New York. I've exhibited as far away as Romania and have work in the Museo de Pontevedra in Galicia, Spain. I've taught photography at North Hennepin Community College since 1975 and am also an adjunct member of the University of Minnesota.
OPENING RECEPTION:
Saturday November 10, 8:00 PM - 12:00 PM
Exhibit continues through December 22, 2001.
---