D. R. Martin
ICEBOX GALLERY presents: Black-and-white street photography created in the late 1960s by D. R. Martin.
See the Exhibit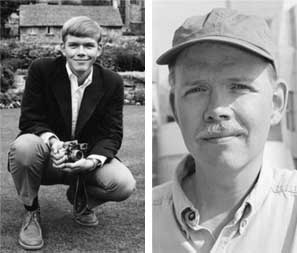 D.R. Martin, then and now
In the late 1960s, when D. R. Martin was growing up in Duluth, Minnesota, he became fascinated by the imagery of Henri Cartier-Bresson, the great French street photographer. Martin bought himself a new 35mm camera and took to the streets of urban Duluth, Minneapolis, and Europe, taking candid images in the style of Cartier-Bresson. This exhibit features new black-and-white prints from negatives made between 1968 and 1972.
It was the book The World of Henri Cartier-Bresson that inspired the 18-year-old Martin to search for his own version of "the decisive moment." During four years of shooting, he took several thousand exposures but made only a small number of prints. This was a creative time for the young photographer, who went on to other career pursuits after college, putting his camera and negatives away. He rediscovered his negatives a few years ago, in a shoebox in his basement. With a magnifying eye loupe, the older Martin examined what he'd created as a young man, and, in another "decisive moment," determined the time had come to get back into the darkroom and do something with his old negatives. Chasing Cartier-Bresson is the result.
French photographer Henri Cartier-Bresson (b. 1908) travelled all over the world during his long career, pioneering the use of the small-format camera to capture everyday moments and life on the grand stage of world events. He created the concept of the "decisive moment"—that instant when people and setting and light came together to create the perfect image. Often ranked as the world's greatest photographer, he made photos that combine spontaneity and humanity with a keen eye for form and composition.
Gala Opening Reception:
Saturday January 18, 2003, 8:00 PM - 12:00 PM
Exhibit continues through February 22, 2003.
---