Howard Christopherson
People, Places & Dreams II+
ICEBOX GALLERY presents: People, Places & Dreams II
A special exhibit of new black and white photographs by Minnesota artist and gallery owner Howard M. Christopherson.
Christopherson's first exhibit of work on this theme, "People, Places and Dreams" opened in May of 1999. That exhibition received critical acclaim and spawned this second exhibit of all new work. Photographer Howard M. Christopherson continues his subject matter trinity in this black and white exhibit.
People consists of intimate portraits of friends and acquaintances. Places includes formally composed landscapes, interiors and cityscapes. Dreams are dream-like visual distortions of the female form created in various unique ways.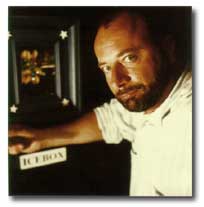 See the Exhibit
Christopherson's portraits are as straightforward as they are revealing. People are often photographed in their home or a place of work. These images seem to penetrate the skin and show a life of pride, creativity and vulnerability. A wide range of subjects find their way into this exhibit; for example, a pair of punk rockers, a horse rancher in South Dakota, a taxidermist from Northern Minnesota, and the world-renowned inventor of the pacemaker.
The photographs included in the Places segment of the show are equally eclectic. Images include landscapes, urbanscapes, interiors, and close-ups of objects. A leafless tree full of nesting birds in a flooded field (South Dakota), a gallery visitor contemplating Vincent Van Gogh's masterpiece "Starry Night"(MOMA), and memorials left to honor the victims of September 11th (NYC); these prints all hang side by side as Places.
The featured Dreams segment of photographs is subtitled; "Between the Moments". This work was recently spotlighted in the January issue of Black & White Magazine. "I am trying to capture the essence of a person using time, and place, and the ephemeral nature of being," says Christopherson. Each distorted image visually departs from the real world in its own unique way. This work includes sensual female nudes, faces, and several enigmatic distortions created in different ways. Techniques such as capturing a muse's reflection as seen in bent mirrors make the work seem altered and surreal, but there is no digital manipulation in the creation of these prints.
GALA OPENING RECEPTION:
Saturday May 18, 8:00 PM - 12:00 PM
Music performed by: Charles & Ed Play Blues
Performing Fire Breathers: The Amazing... F.I.R.E. inc.
Artist Talk: Thursday, June 27th beginning at 7:00 PM. * free
Exhibit continues through August 17, 2002.
---