Icebox Gallery presents:
"Tree", by Keith Dotson
Black and white photographs of trees living in the landscape together with images of wooden objects employed in our lives by Wisconsin photographer Keith Dotson
Keith Dotson documents more than astonishing trees found on the landscape in this exhibit of intimate B/W images. Dotson imparts with metaphor the utility and the sublime visual poetry found in the life cycle of our most important plant.
This exhibit explores the tree in depth, from its place in the landscape, to its place in our lives. It is admired up close in the beautiful details of its bark, knots, branches, and leaves. Also explored are trees, which have been transformed by the hand of man, through vandalism, artistry, ritual, or industry.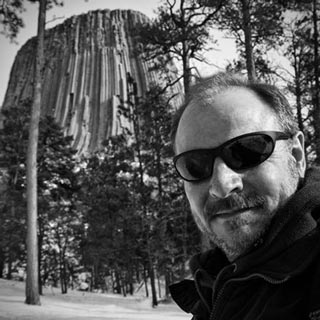 I have had a lifelong love affair with trees, probably rooted in my experiences as a small boy on my grandparent's farm in the rural south, where I climbed trees in pursuit of green apples, and explored the dark forests that bordered the farm. From that early age, I understood that trees were something special – something powerful, something mysterious. Few of nature's bounties have been as valuable to humankind as the TREE -- every part, from its roots to its leaves and branches, holds metaphoric meaning. Trees have been deified, romanticized, revered in poems and songs, protected by laws, used as landmarks, tapped for medications and magic, and appropriated for use as symbols for various causes and beliefs. They have been harvested, chopped, sawed, planed, carved, sanded, and fabricated into everything from the roofs over our heads to the tables where we dine, from objects of art to the pages of the books and newspapers we read. For the landscape artist, trees hold an intrinsic beauty all their own. They can add an incredibly human quality to a landscape. They can be majestic, expressive, frightening, graceful, and even decrepit. They can represent birth or death. They can stand together in a unity, or alone in isolation.
"I frequently tramped eight or ten miles through the deepest snow to keep an appointment with a beech-tree, or a yellow birch, or an old acquaintance among the pines." -- Henry David Thoreau