OPENING NIGHT
at
ICEBOX GALLERY
Saturday,
January 21st,
8 PM – Midnight
SEE THE SHOW ONLINE

CLOSES Saturday, March 4th, 2006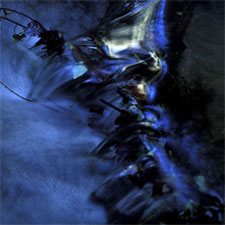 Howard Christopherson is the owner of Icebox, he began email exchanges with Gonzalo after the photographer approached the gallery with his work. "I was taken with this work right away. I think it is direct, respectful and honest. Gonzalo captures the sublime beauty of water in an endless variety of ways and forms. I loved seeing his work on the computer monitor, but now I have the prints in hand and they are opulent."

"The process of designing an exhibition with a photographer living so far
away has been a wonderful experience. (Santiago, Chile.) Gonzalo and I have become friends through our many email conversations. He is multi - talented and a gentleman. One of many extraordinary things is the virtual exhibit that he created. After we discussed the show Gonzalo went to work creating a virtual gallery. He has outstanding computer skills that allowed him to recreate the Icebox Gallery without ever even seeing it! I became his eyes here in Minneapolis. I took some pictures measured the gallery and sent him the wall colors over the Internet. Together we laid out the show and that is how it will look in the real world. This animation by itself is amazing, now seeing the show will seem like deja vu." - H.C.

G.C. continues…"Late 1955 my eyes opened in to this world. Since then, I have learned from the masters. It was my love of the artwork by Vincent Van Gogh and Ansel Adams that forged my technique and have developed my own color version, specially related to water. Lately, using technology, I have entered the grounds of the Sabattier Effect, using my own photographs and generating a solarized digital version."
"My favorite places are National Parks, where I capture the images on 2 1/4" film (slides/B&W). After processing, all my work is digitalized at a very high resolution for cleaning, conservation and processing purposes, I do not change or correct the contents of an image."
"When I capture the images, all my senses are at work, enjoying every moment. To view the finished work, I replace sounds and aromas with Rock music (maybe: ELP, Yes, Pink Floyd or Spock's Beard) and a glass of red wine." -G.C.
Gonzalo Contreras del Solar's List of Past Exhibits
1984 Göette Institute. Theme: Water [Bolivia].
1996 Instituto Chileno Norteamericano. Title: AGUA (Water) [Chile].
2001 Corporación Cultural de Las Condes. Title: ES SOLO AGUA (It's only Walter) [Chile]. 2003 Corporación Cultural de Las Condes. Title: Aguas a Secas (Water as is) [Chile].
2004 Galería M2. Theme: Mi Playa (My Beach) [Chile].
2004 Inter-American Development Bank. Theme: Digital Photography [USA].
2004 Centro Integral [Argentina].
2004 Marziart Internationale Galerie. Theme: Water in Blue [Germany].
2004 Watermark Fine Arts Photographs & Books. Theme: Water [USA].
2004 FotoAmerica 2004 Edificio Huidobro. Theme: Waters of the World [Chile].
2004 FotoAmerica 2004 Plaza Oeste. Theme: Near Waters [Chile].
2005 Watermark Fine Arts Photographs & Books. Anniversary [USA]
2006 ICEBOX GALLERY, Solo Exhibit, Minneapolis, Minnesota [USA]