Transcendental Frames
by Howard M. Christopherson
It was in 1974 when I made my first picture frame and got paid to do so. I have made many different frames since then. In this body of work I explore the relationship between the art and the frame. I have at times challenged myself to create from different parts of my internal self. This time around I have merged my framing aesthetic with my art. Go to the Exhibit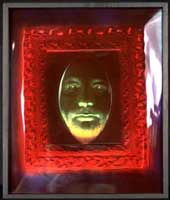 Pictured: "From the Inside" ©1995 Howard Christopherson
In this body of work that I titled "Transcendental Frames", it was my intention to work from the first spark of an idea. I chose a theme that remained open-ended: the "Frame". I then took full advantage of being my own art gallery and set an exhibit date. At that point I only had previously created pieces, and three of them were included in this exhibit ("Beyond Gravity", "Steel Wheels", and "From the Inside"). With a show date and a title I began producing the work. I decided to create this exhibit in the same way that I have made many of the individual pieces. In many cases I first made a frame, then I meditated on the perimeters I had set, then I created the art within that frame. Other pieces in this body of work began with an overall concept, and grew out from that point.
It is very important for me to keep my art fresh. I have frequently chosen to work in another media to shake things up. I feel that my art lets me be an explorer. I have loved to travel as much as possible exploring places all my life. It is quite possible that my art is equally about my need to explore as it is important for me to create.
I consider the world to be one big art supply store. Some people are of the belief that to "master" something you must pursue it and dedicate your entire life to it. I admire many who choose that path, but I would feel restrained. I feel more connected with artists who are not afraid of stepping out of their comfort zone and dare themselves to create in a new way.
Transcendental Frames Revisited: Reflections on the series, 2004 by H.M.C.
I was young and interested in art, so I answered an ad offering a beginning position in a frame shop. That is how I got started. I began my framing career right after graduating from high school in 1974. My first experience was at a "do it yourself" framing franchise in a suburb of Minneapolis. After many years working in the trade with several employers, I picked up the skills and became a production manager. I started my own business in 1988. Icebox Quality Framing & Gallery is my company and my way of doing what I love; producing, displaying,, selling and framing fine art.
I had a long history of making art in several kinds of media before the mid nineties when I began making these frames. My idea was to experiment and make pieces that are as much art as they are frames. After making some successful ones, I decided it would make a great show. Soon I began challenging myself to see just how far out of the box I could get with a framing idea.
The title of the show became Transcendental Frames. I choose this name because the ideas would occur to me when I was meditating.
One of the first pieces that I made was "Stimulus in Yellow", my homage to the pencil. The piece is made by incorporating a handmade frame painted yellow and perforated with hundreds of number two pencils. The idea behind this piece was based on my love and respect for the pencil. The pencil becomes the tool that works as an extension of the hand, and a direct link to our brain, expression and imagination.
Some pieces began with a frame, but I would reverse the usual way of looking at framing by making the frame first. At that point I would stare into the blank space until I visualized a new work that was appropriate for the frame. This "backward" way of working took me in several directions and opened my mind to a different way of framing. ("Fire" 1997 and "Portrait in Black and White" 1997) With all this experimenting, I was constantly challenged with what all I knew about art materials, painting, photography, framing materials and mixing media.
In my self portrait, "From the Inside", I put my face directly in a oval mat opening with an ornate guild frame and made a close up photograph. I reversed the image by printing it in negative on Cibachrome photographic paper after hand coloring the transparency. The idea was that this self portrait appeared to be of the inside of my face looking out of a picture frame. The photograph was completed when I framed it in a modern gallery style frame.
I used materials that are often part of everyday frame building like frame stock, mat board, saw blades, glass, acrylic, wood, paint and nails. In the "yin and yang" piece I decided to cut 50 white rag mats with 1/8 inch visible. It took most of a quiet (and uninterrupted) Sunday to do the mat cutting. Together 50 mats got pretty thick, I used lots of #969 ATG to hold the mats together and methodically attached the dropouts together at the same time. In the end this made two wonderful pieces that fit exactly together. I made two deep shadowbox frames and hung them side by side. One took you in, the other one pyramided out.
My farthest departure out from ordinary framing was when I challenged myself to "frame birds with fish." I wrote this challenging phrase on a post it note and began to problem solve. I ended up reading biology books, aquarium books and visited several pet stores before designing the "Menagerie". I teamed up with my acrylic fabricator and made a large aquarium with a bird cage in the center of it. Sound simple? It wasn't, but it worked out well and remained functioning in the gallery for two years, surprising hundreds of people and entertaining customers' children. The two Gouldian Finches survived surprisingly well surrounded by bubbles, angel fish and neon tetras. I brought the birds home after dismantling the piece where they lived for another two years in a regular cage.
The Transcendental Frames exhibit took place at my gallery and was a lot of fun and well received by the public. Learning as I went along, making pieces that dealt with religion, sex, biology, space travel, philosophy and fear. I learned how to be a better artist and framer, and at the same time I was rewarded when several pieces sold and I gained lots of exposure from magazines and area newspapers.
---
Return to H.M.C. exhibition catalog