2 Part / International Multi-Media Juried Art Exhibit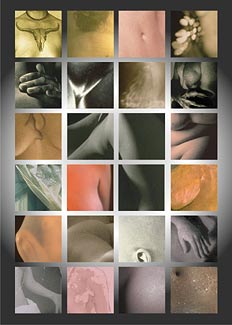 ICEBOX presents: The human body in art. Figures, eros, fragments, politics, mirrors, estrangement, mind, and metamorphosis in a two part exhibit of more than one hundred works of art from around the world. Exhibit juried by Howard M. Christopherson. See SKIN 2003 part 2
SKIN 2003 was initially conceived as a single show, but the artists' response to the call for entries was so great and the artwork so diverse that Howard Christopherson, creator and sole judge, decided to create a pair of exhibits about the human body. Christopherson made the selection from over 525 pieces of art in one long night. "After I was immersed in the selection process, I realized that I had enough worthy art to mount a second show" said Christopherson.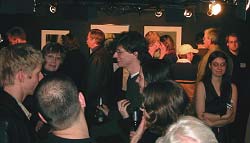 SKIN 2003 Part 1 has become Icebox Gallery's most well-attended exhibit in its fifteen year history, beginning with a packed opening night of 460 people, and going on to receive several complimentary critical reviews in the press. Part 1 was a success, but it only took us half the way through a marvelous collection of art. In SKIN 2003 Part 2, the exploration continues by artists enamored with the spectrum of power, politics and beauty available within the image of the human body.
The art, in a variety of media, has been selected and paired in ways that seem to "cross pollinate‰ the multitude of visual ideas present in a group show of this size. Many times there is a similar or contrasting visual element that has been created by two artists, each unaware of each other. The artwork in the exhibit is displayed and edited in such a way that it can create an adjunct serendipity and cross-over of artistic statement, appearance, and media.
Hints about Skin 2003 Part 2:
Part 2 will push the "erotic button" in several new ways: in a challenging image created from 1960's porno by New York photographer Sid Kaplan, and in a larger than life relief sculpture of her own genitalia made by Miami native and self-proclaimed erotic artist Lori Benson. The human body as portrayed in myth and legend takes on similar forms in a painting by Jacqueline Plavier from New York and a digital image created by Maine artist Ann Falcone. Humor is alive and well in artwork by Mankato photographer Elisabeth Jenssen and Shafer, Minnesota sculptor Steven Rolf Kroeger. Their humorous approach contrasts and gives the viewer comic relief from difficult images, such as two graphic and sobering photographs of scarred bodies by San Francisco photographer Amie Potsic. A timely reference to peace and the recent peace movement is seen in a documentary image by New Mexico photographer Jennifer Esperanza, and war shows its naked self in a confrontational color image, gas mask and all, by Erin Buchner of Minneapolis.



Part 2 / OPENING RECEPTION: Saturday, May 3 - Show Ends June 14, 2003.
Each exhibit has a $2 Admission. Opening times: 8 PM --1 AM
Due to the mature nature of this exhibit, no one under the age of 18 will be admitted.
Availability and Pricing of the artwork
SKIN/2003 Part 2:
1. "Meeting of Heaven and Earth" 10/23/2002 toned B&W Fuji Crystal archival print
Stephen L. Haynes - Minneapolis, Minnesota

2. "Blame it on René" acrylic on canvas
J. Darrell Hagan - Minneapolis, Minnesota

3. "Patrice" 2000, gelatin silver print
Pedro Isztin - Ottawa, Ontario, Canada

4. "Christina" 2002, gelatin silver print
Ted Hall - Minneapolis, Minnesota

5. "7 Words" gelatin silver print
Jeffrey McAlister - Somerville, Massachusets

6. "effrontery - seconds split" summer 2002 35mm color photograph
Erin Buchner - Minneapolis, Minnesota
7. "Meditation for Peace" color C print
Jennifer Esperanza - Santa Fe, New Mexico

8. "Rocio" Peru 2000 gelatin silver print
Pedro Isztin - Ottawa, Ontario, Canada

9. "Betsy 1" 2001, gelatin silver print
Pat Thielen - Woodbury, Minnesota

10. "Blue Woman" iris print
Bob Barrett - New Paltz, New York

11. "Northshore Goddess" 2002, oil on canvas
Clara Saprasa - Minneapolis, Minnesota

12. "Calligraphy of the Body" 2000, Fuji archival print
Arthur Durkee - Minneapolis, Minnesota

13. "Naked Bones" 2002, charcoal on paper with thread and needle
Morgon Mae Schultz - Minneapolis, Minnesota

14. "Upside Down Girl" 2002, charcoal on paper
Gwen Schwebel - St. Paul, Minnesota

15. "Waiting for Jessica" 2001, c-print
Greg Markstrom - Lakeville, Minnesota

16. "Phallacy" 2002, oil on board
Karen Wilcox - Minneapolis, Minnesota

17. "Viewer/Voyeur Pedestal #2" photo/mixed media
Craig McMonigal - Champaign, Illinois

18. "Blue" 2002, c-print
Elizabeth K. Jenssen - Mankato, Minnesota

19. "Pond" 2000, Fuji Crystal print
Matthew Scherfenberg - Robbinsdale, Minnesota

20. "Untitled #1" from the Origin series, 2000, digital print on resin
John Meyerhofer - Highland Park, New Jersey

21. "Farm Machinery Nude #1" 2000 gelatin silver print
David G. Danielson - Roseau, Minnesota
22. "The Fall of Man" Fujichrome
S. G. - Canada
23. "The Covenant" gouache on paper
Marc DeBauch - Minneapolis, Minnesota

24. "Childern of Lir" 2000 digital print
Ann Falcone - Marshfield, Massachusets
25. "Leda" 2001 oil on canvas
Jacqueline Plavier - New York City, New York
26. "Safe Stretch" 2003 photo lightbox
Cheryl Casteen - St. Peter, Minnesota
27. "Peel II" October 2002 polaroid emulsion transfer
Brooke Davis - Wooster, Ohio
28. "E #1 2001 gelatin silver print
from the Thin Skinned Thick series
Amie S. Potsic - San Francisco, California
29. "Stella #1 2000 gelatin silver print
from the Thin Skinned Thick series
Amie S. Potsic - San Francisco, California
30. "Mercuria I" Monochrome, fibre based, sepia toned
from the Mercuria, the mythological woman series
Eduardo Blidner - Buenos Aires, Argentina
31. "Mole" 2001 oil on masonite
L. Kimberly Gillespie- Minneapolis, Minnesota
32. "Isis" sepia toned gelatin silver print
from the 'Argentine Drag Queens' the degenerated art series
Felix Aranguren - Buenos Aires, Argentina
33. "Black Charley" sepia toned gelatin silver print
from the 'Argentine Drag Queens' the degenerated art series
Felix Aranguren - Buenos Aires, Argentina
34. "Extraterrestrial Something" 2002 c-print
Elisabeth Krey Jenssen - Finnsnes, Norway
35. "Nood Dance" 2002 steel and stainless steel
Steven Rolf Kroeger - Shafer, Minnesota
36. "Armless Doll" 2002 oil on metal
Mary Gibney - Minneapolis, Minnesota
37. "Akiyo - 2-24-01-3AD" ink jet print from oatmeal cereal box pinhole camera
Dan McCormack - Accord, New York
38. "Survival Sphere" 2002 oil on canvas
Marilee Mast - Zephyr Hills, Florida
39. "M. Savannah 42" c-print
Tim Fabian & Cheryl Casteen - Pittsburgh, Pennsylvania
40. "Dropping the Slip #1" 2002 digital c-print
from the White Slip series
Melissa C. Beckman - Forest Hills, New York

41. "AG307C" 2002 archival giclee
Daniel Polsfuss - Minneapolis, Minnesota
42. "One" 2002 gelatin silver print
Laurie Schneider - St. Paul, Minnesota
43. "Esparanza Godot" 2002 c-print
Greg Marksrtom - Lakeville, Minnesota
44. "Stem Cell Factory" 2002 c-print
Sean Buse - St. Paul, Minnesota
45. "Yummy Tummy" 2000 pigmented ink on archival paper
Lars Michael - Brooklyn Park, Minnesota
46. "Nude no. III" archival inkjet print
Jan Halle - Tokyo, Japan
47. "Female Figure 3" 2001 silver print
Nyla Schroeder - Plymouth, Minnesota
48. "Nude 03" April 2001 gelatin silver print matted on aluminum and mounted on plexiglass
Clelia Belgrado - Genova, Italy
49. "Untitled 3" 2002 selenium toned gelatin silver print
Julia Zhogina - Canton, Massachusets
50. "Dave in the Badlands" 2002 gelatin silver print
Doug Beasley - St. Paul, Minnesota
51. "Self-Portrait, SHIN Her Hotel, Taipei, Taiwan" July 2002 c-print
Tema Stauffer - Minneapolis, Minnesota

52. "Creative Cropping for 2™" gelatin silver print with playing card
Sid Kaplan - New York City, New York
53. "Under the Masque" 2003 gelatin silver print
H. M. Christopherson - Minneapolis, Minnesota
54. "I Love Pussy" December 2002 latex
Lori Benson - Coral Springs, Florida
55. "Palms" wood engraving
Mary Thompson - State College, Pennsylvania
56. "The Groom" 2002 animated video
David and Mary Sandberg - Minneapolis, Minnesota
57. "Worm Belly" and "51 Bites" video
Colette Copeland - Media, Pennsylvania